So, you think you want silver hair. Before you jump into that bucket of monkeys let's lay out what that entails. Twice the time and product at your stylist, and possibly twice the price of standard color. This is a very optimistic assessment of time. A minimum of 4 hours, and up to 6. It is quite possible that it will take more than one visit. First, all of your natural color needs to be removed. Bleaching up to a pale blonde is progressively more difficult the darker or more resistant your hair is. If you have dark artificial color, it may not be able to be completely removed at all. This is a pretty tough process and a conditioning treatment may be in order. There are additives like Olaplex ( https://olaplex.com/ ) but even those are limited.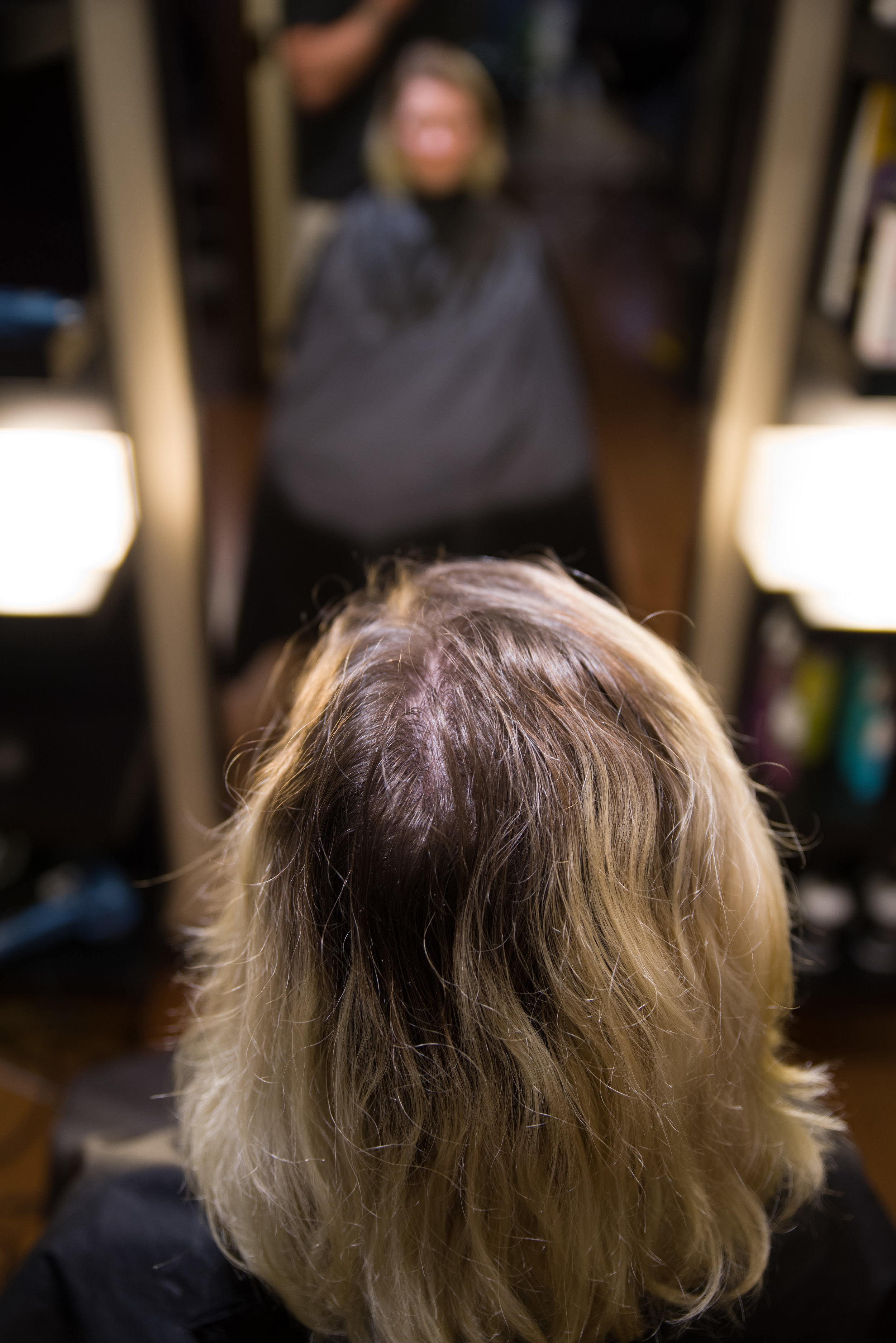 Next comes the toning. Depending on the level of success in lightening, a toner of varying shade will need be applied. This may be a gentle color additive ( Demi-Permanent ), a direct dye ( Blue, Pink, Green, Purple, Ect ), or an actual permanent color to finish the lifting before the layer of violet can be added for the smoky silver look. On this project I had advanced access to a new Lightener with safer and stronger lift ability. Belma Kosmetic uses what they call Enzymotherapy for safer and faster lifting. I have to say, it was a pleasure to work with. https://www.facebook.com/belmakosmetikusa/
The after toner, pre picture.
For a toner I was able to try a newer product made specifically for this kind of color. Mydenitity http://www.mydentitycolor.com/ is a color developed by a hairstylist known for grey and other colors in that family. I used the permanent level 8 silver/pearl to balance out the remaining color. For toner maintenance it will require a touch up about every 2 weeks realistically. There is another option that is take home. Schwarzkopf International, a color manufacturer, makes a "spray in" toner that takes about 20 minutes and lasts for a respectable amount of time. It is a silver white and not a true silver, but this was the color goal for this particular client. There are also a few new Shampoo/Conditioner toners available that have differing effectiveness. If you aim to maintain this color, the dark regrowth will need to be addressed at the very least every four weeks. Then toner again. Marilyn had hers lightened every Friday. So, adding it up, we have this list of consideration for silver hair:
1: More Time. 2: More Cost. 3: More Damage. 4: More Maintenance. 5: Quicker Return Appointment.
If you fully accept and understand these requirements and still want this, or the host of other ( pink, blue, rose, ect... ) Colors achieved this way, start an informed conversation with your stylist. It can be very rewarding and traffic stopping stunning.